ITL Corporation Is Proud To Win HR Excellence Award 2021
ITL Corporation has just received a great honor when winning HR Excellence Award 2021 in the category of Employee Engagement.
This prestigious award is within the framework of
Vietnam Excellence Certifying Program
organized by Anphabe in coordination with Vietnam Chamber of Commerce and Industry (
VCCI),
the American Chamber of Commerce in Vietnam (
AmCham
), European Chamber of Commerce in Vietnam (
EuroCham
) and the Australian Chamber of Commerce in Vietnam (
AusCham).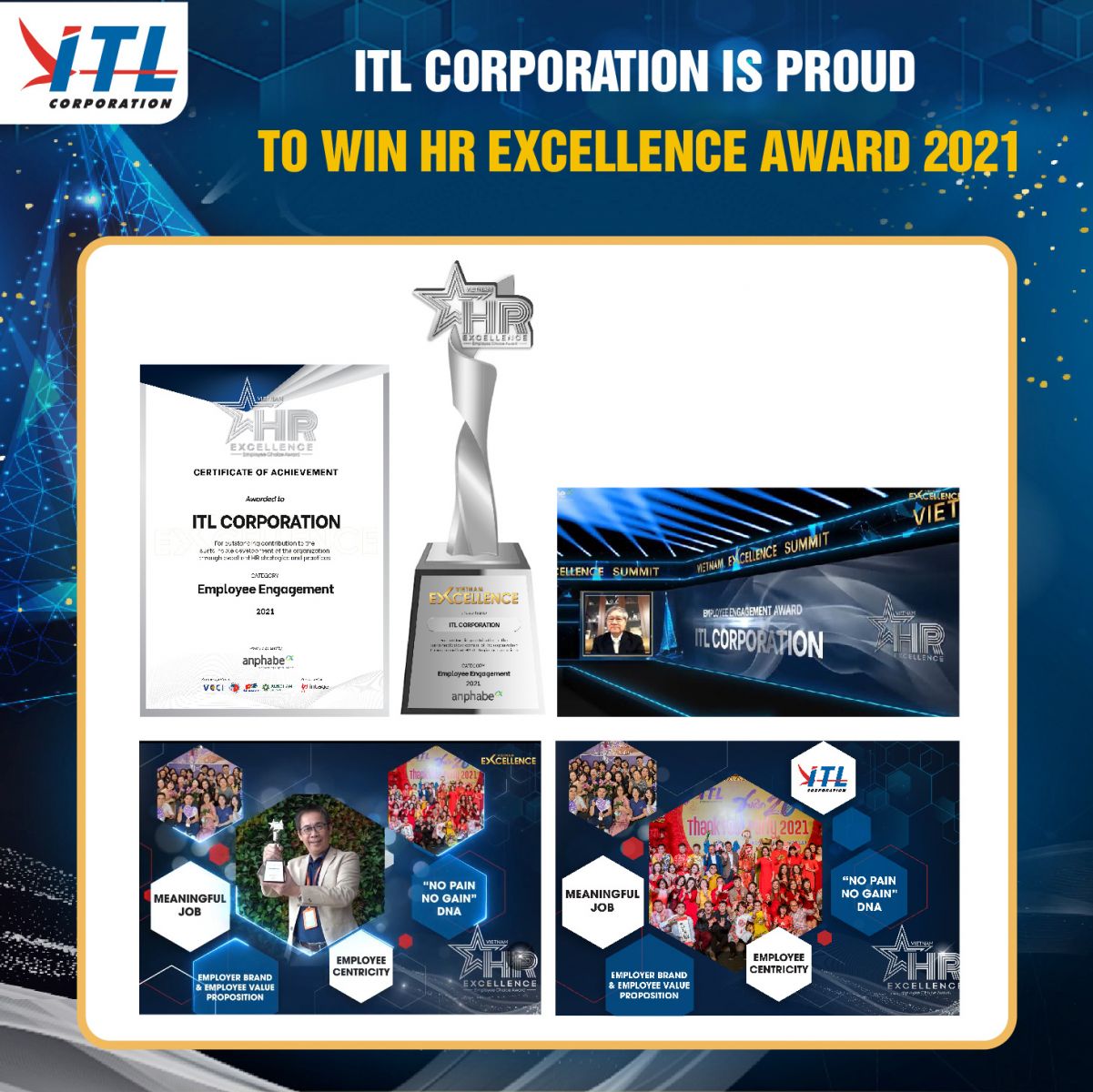 The Awarding Ceremony of HR Excellence Award 2021, within the framework of Vietnam Excellence Summit 2021 was organized virtually this afternoon, October 28th, 2021.
HR Excellence Award
is the program aiming to recognize excellent strategies and practices in human resources, with 7 sub-categories:
Talent Acquisition
; Employee Engagement;
Learning & Development
;
Workplace Wellbeing
;
Workplace Culture
;
Diversity & Inclusion
;
HR Technology & Innovation
. In particular, the category of
Employee Engagement awards well-thought out strategy linking well employee engagement with business performance and talent retention. Awarded organizations have showcased specific initiatives that clearly drive employee's discretionary effort and willingness to stay longer.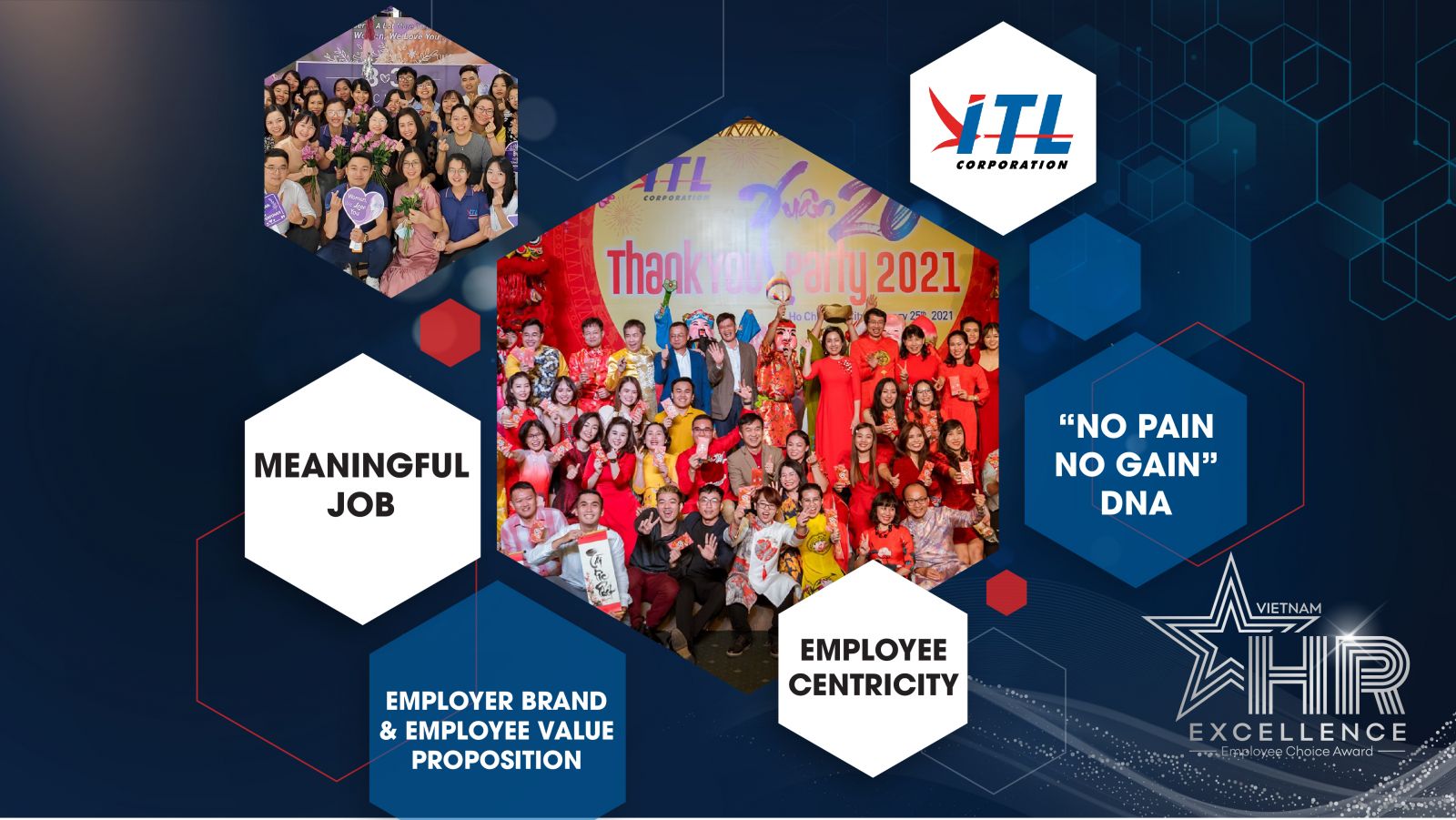 Spending the three rigorous rounds of selection, from application appraisal to employee survey, and evaluation from the prestigious advisory board, ITL has excellently met the specific criteria of the award as well as received the consensus and appreciation from the advisory board to proudly become one of the best companies in Vietnam in terms of Employee Engagement activities in the challenging 2021.
This award is a well-deserved recognition and pride of ITL for the company's best efforts to protect our employees during the Covid-19 pandemic, focusing on training talents, building the working culture & environment that encourages creativity, engagement and sharing, encouraging ITL-ers to overcome challenges during the last time.
This award will be also the motivation for ITL to continue to build and promote human resource activities with the strategy of "
Employee Centric
", helping ITL to have a solid foundation to continue conquering its new goals ahead.
---
*About Vietnam Excellence and Anphabe:
Vietnam Excellence
is the program honors leaders & organizations with excellent achievement in transforming business through talent & workplace development. The organizer expects that the excellent companies of 2021 and their success stories will be spread and become the inspiration for changes in Vietnam business community. The program has honored 24 outstanding companies in two main categories – HR Excellence 2021 and Leadership Excellence 2021
Anphabe
is the pioneer consulting firm providing Employer Brand and Happy Workforce solutions. The company is active in three areas of business: Employee, candidate and HR trend survey; Employer Brand and Happy Workforce strategic consultancy; Activation of Talent Acquisition, Employee Motivation and Retention programs.