ITL AVIATION WAS HONORED TO RECEIVE "THE HIGHEST CARGO REVENUE INCREASE AWARD IN 2019" FROM DELTA AIR LINES
July 31
st
2019, ITL Aviation under ITL Corporation was honored to receive "The Highest Cargo Revenue Increase Award in 2019" from Delta Air Lines in Osaka, Japan.
The representative of ITL Aviation, Delta Cargo Team was honored to receive the award from Mr. Eric Anderson – Asia Pacific Cargo Director and Mr. Eric Wilson - Global Sales Director of Delta Air Lines. This award is the highest recognition from Delta Air Lines for the dedication and commitment of ITL Aviation to its development in Vietnam Air Cargo market.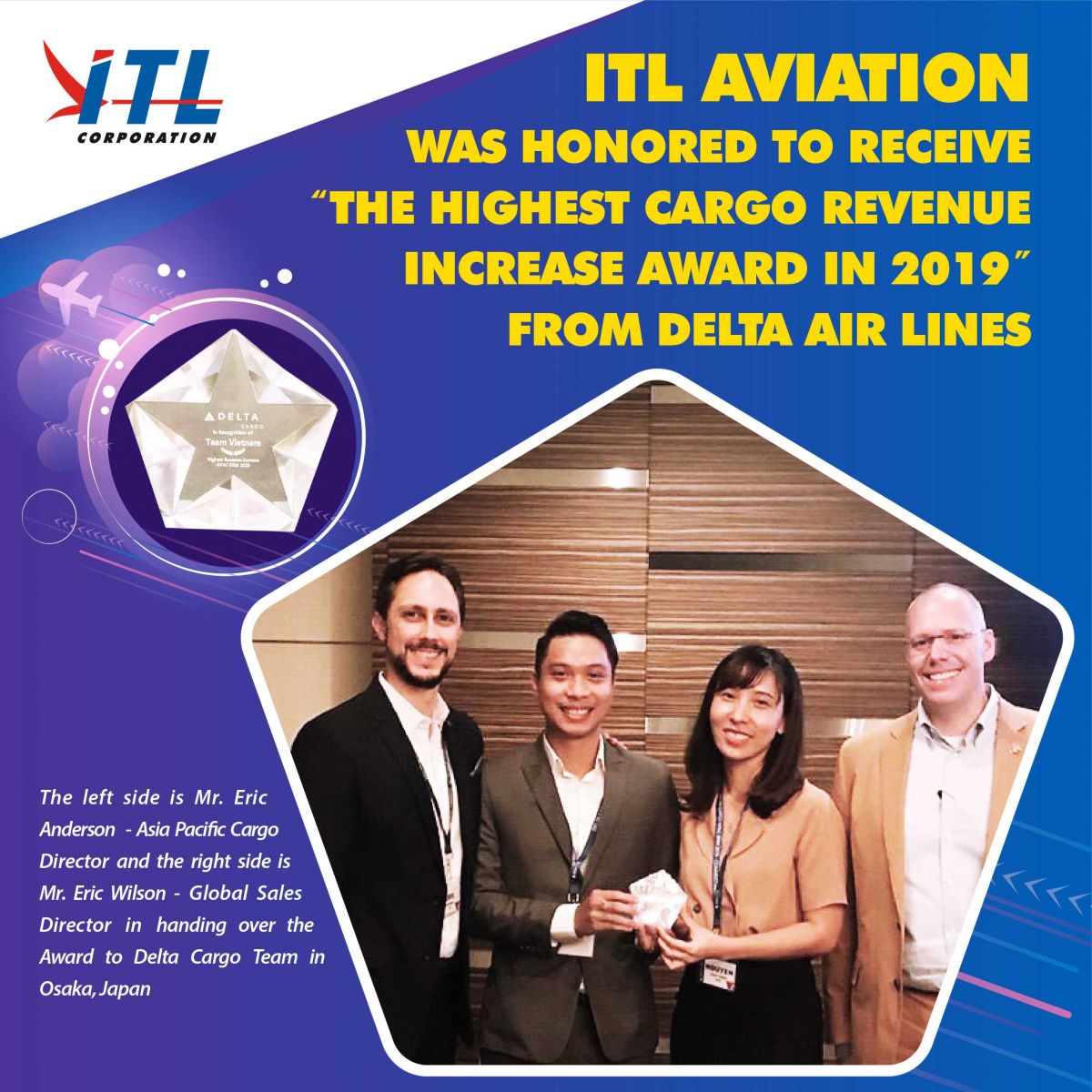 Delta Air Lines is one of the world's largest airlines in the US, transporting 180 million customers to more than 330 destinations in 61 countries around the world and carrying more than 2.2 billion cargo ton-miles each year. ITL Corporation has been appointed as a GSSA (General Sales & Service Agent) for Delta Air Lines in Vietnam since 2009, thereby, ITL is proud to provide the optimized freight solutions to serve customers' needs from Vietnam to the US via the international hubs at Incheon International Airport (Seoul, Korea) and Tokyo International Airport (Japan).
The Air Cargo market has faced several headwinds this year but with the extreme efforts from Delta Cargo Team, ITL Aviation has achieved the remarkable and outstanding performances in the spirit of "
I am possible
". Especially, only within the first 6 months of 2019 (January to July 2019), ITL Aviation has consistently achieved the high sales awards from the major partners such as Thai Cargo, Hong Kong Air Cargo, Delta Air Lines - this is the solid demonstration for the determination, efforts and commitment of ITL Aviation to ITL Corporation on the journey to reach the National Champion destination.