ITL Railway Has Successfully Delivered The First 24 Cargo Containers To Kazakhstan By Trans-Asian Railway Service
Continuing the momentum of growth towards the common goal of National Champion, ITL Railway has just created a milestone with the expansion of Trans-Asian Railway service from Vietnam to Almaty, Kazakhstan.
The first shipment with 24 food containers departing from Vietnam successfully arrived at Almaty, Kazakhstan on July 11th, 2022 and the next 82 containers will be at the station at the end of August.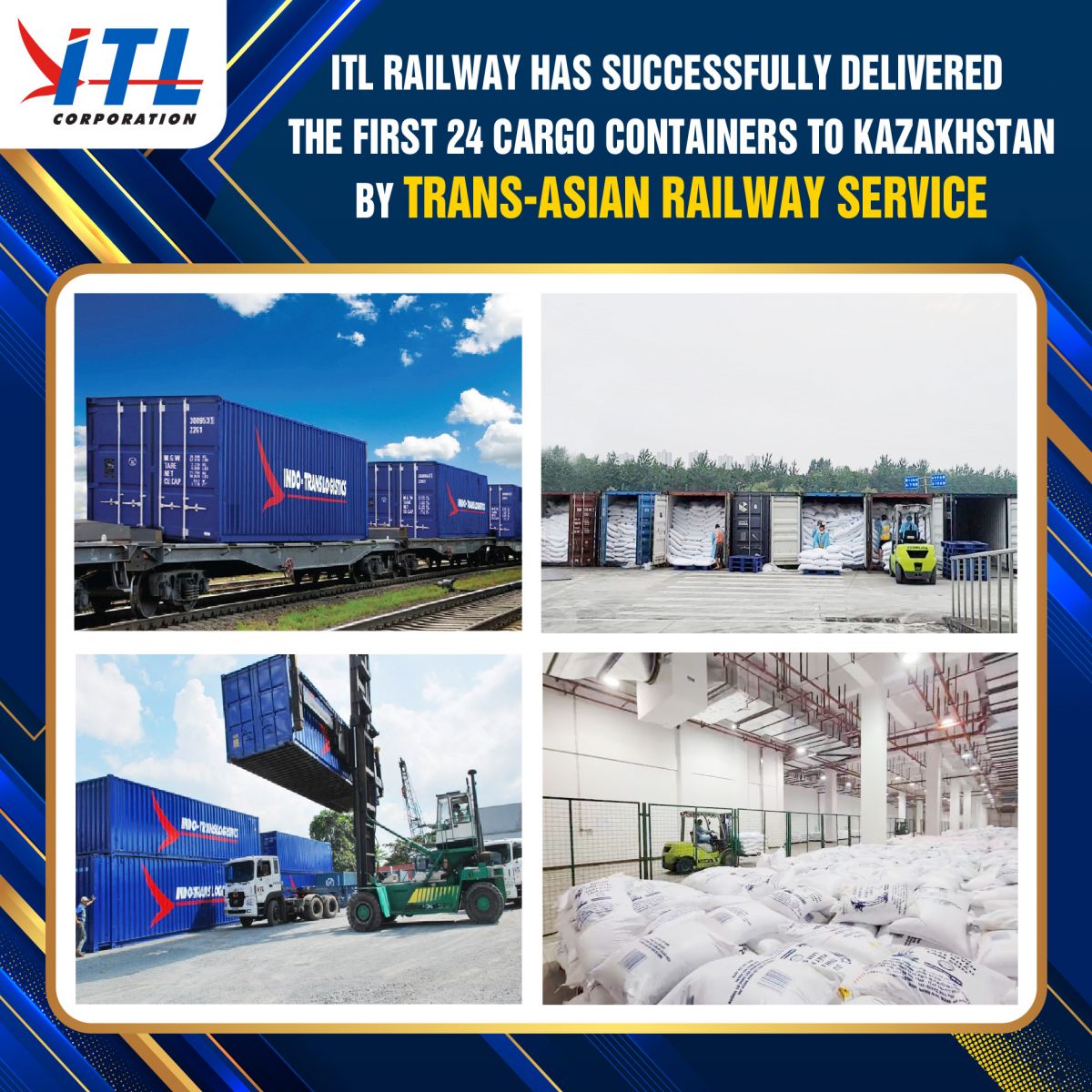 Kazakhstan is located as a gateway to connect and transit cargos from China to Russia, Central Asian and European countries with large traffic. If cargos are transported by this Railway service, the shipping time will be much shorter than by sea, at the same time, the transportation cost will be more competitive.
The expansion of Trans-Asian Railway service from Vietnam to Almaty, Kazakhstan marks the strong growth of ITL Railway in expanding services to increase competitiveness in Vietnam's transport market.
As planned, ITL Railway has been continuing to provide Trans-Asian Railway service to the countries such as China, Russia, Mongolia, and Europe,...
ITL Railway also offers customers the outstanding added values:
ITL Railway operates Yen Vien railway station in Hanoi, providing Logistics services for the railway industry with the additional services (Lifting, storage, packing, counting, ...)
Multimodal transportation service flexibly meets customers' diverse transportation demands
Customize solutions for each customer's specific demands such as high value cargos, heavy cargos, emergency cargos and materials for production or projects
Provide road transport service with more than 250 prime movers at the strategic locations in the Northern - Central – Southern Vietnam
ITL owns a team of highly qualified and professional customs clearance and operation staff…

Congratulations to ITL Railway on expanding the new service! This is the deserved result for ITL Railway team's continuous efforts in finding the best solutions and seizing the opportunities to expand our business activities, bringing the best values to customers and contributing to ITL's common goal of National Champion.