Affirming Its Leading Position, ITL Continues To Be Listed In The Ranking Of Top 500 Biggest Companies In Vietnam In 2021 (VNR500)
On November 30
th
, 2021, ITL was very proud to continue to be named Top 500 Biggest Companies In Vietnam In 2021; Top 500 Biggest Private Companies In Vietnam In 2021; Top 50 Vietnam The Best by VNR500 ranking announced by Vietnam Assessment Report JSC (
Vietnam Report)
in collaboration with VietnamNet newspaper.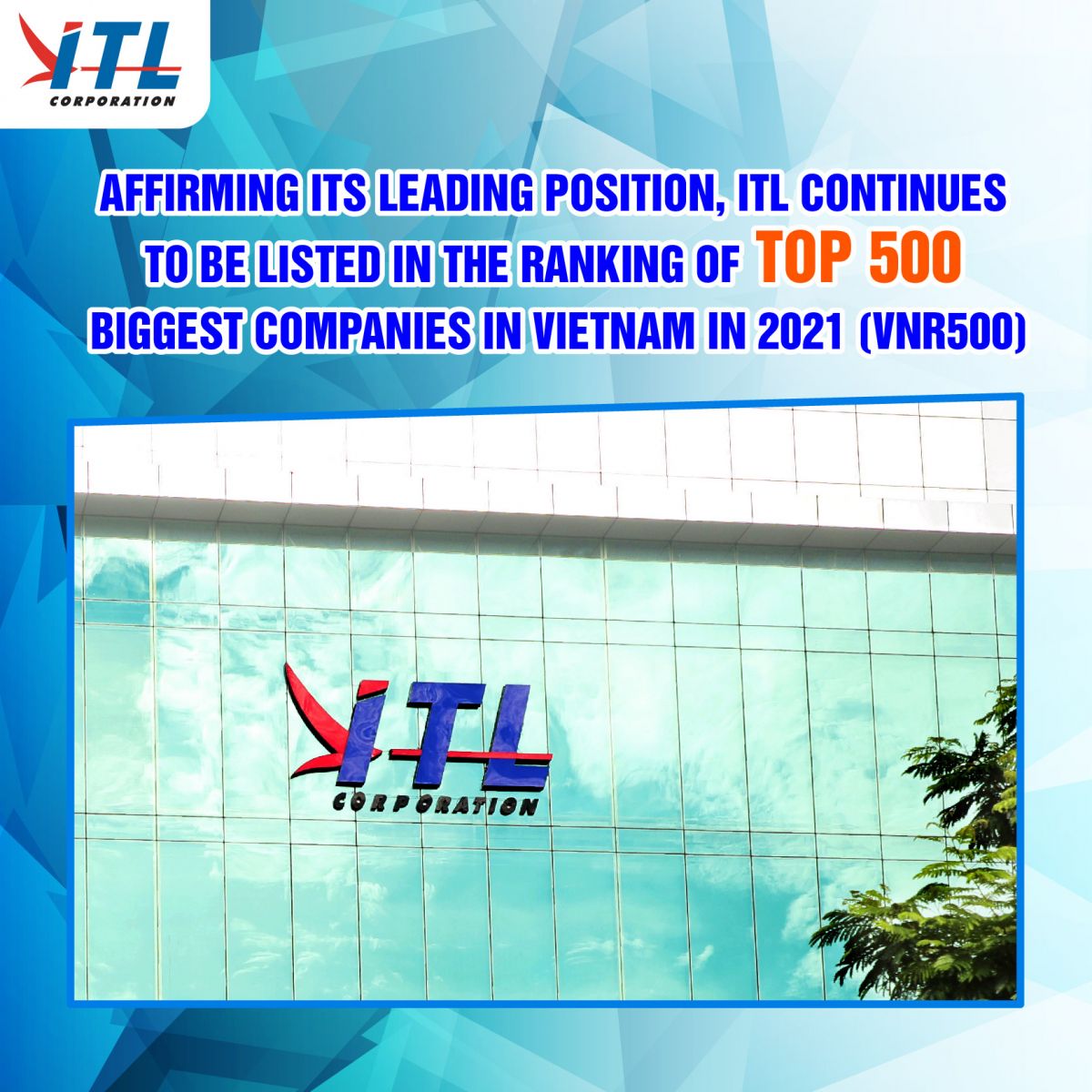 2021 marks the 7
th
consecutive year when ITL has been listed in Top 50 Vietnam The Best; the 15
th
consecutive year named in Top 500 Biggest Companies In Vietnam (VNR500).
In particular, ITL continues to affirm its strong position when it has been up its position in the rankings:
HEADING LIST OF Top 500 Biggest Private Companies In Vietnam In 2021 - Under the category of Transportation Supports
RANKED #2 IN THE LIST of Top 500 Biggest Companies In Vietnam In 2021 - Under the category of Transportaion Supports
RANKED #120 IN THE LIST of Top 500 Biggest Private Companies In Vietnam In 2021 (Up 60 notches compared to 2020)
RANKED #233 IN THE LIST of Top 500 Biggest Companies In Vietnam In 2021 (Up 92 notches compared to 2020)
VNR500 ranking aims to honor enterprises with large scale, maintaining efficient and sustainable production & business activities, demonstrating resilience and being the leaders of Vietnam's economy during the difficult period due to the impact of the last Covid-19 pandemic. To be named in VNR500 ranking, ITL must meet the revenue criteria and evaluation criteria such as: Capital efficiency, stable profit growth potentiality and good social and community responsibility. The awarding ceremony will be held in Hanoi on January 14
th
, 2022.
According to Vietnam Report's statistics, in 2021, most industries have decreases in total revenue compared to last year's ranking, except for the Retail, Steel, Finance and Electricity industries that still have increases in total revenue. The industries that have witnessed significant declines in total revenue in the last year are the most affected ones by the pandemic such as: Transportation - Logistics, Mineral, Petroleum, Mechanical and Food - Beverage.
In the general context, despite facing with the market's fluctuations caused by the Covid-19 pandemic,
ITL continues to achieve the business growth goals thanks to our agile mindset and the platforms that have ben built and continuously improved over the years. In addition, ITL has also promoted and expanded some new services to support for our customers & partners to overcome the common challenges.
The company has focused on maximizing resources in terms of capital, human resource and technology to stabilize our business activities while protecting our employees' safety.
Previously, ITL has also made a special impression with a remarkable increase in the Ranking Of Vietnam's 500 Most Profitable Enterprises In 2021 and winning HR Excellence Award 2021 organized by Anphabe and some big partners.
This achievement continues to be a solid foundation to create leverage for ITL's further development and acceleration in the coming period to conquer our next big things on the journey to become the National Champion.
*
For further information about VNR500 ranking, please click:
https://vnr500.com.vn/