ITL Aviation Has Been Awarded As "2020 Excellent Performance" By Hong Kong Air Cargo
On September 29
th
, 2021, ITL Aviation under ITL Corporation was awarded as "
2020
Excellent Performance
" by Hong Kong Air Cargo
Due to the Covid-19 situation, the award ceremony was held online with presence of Hong Kong Air Cargo's top management and representatives of awarded GSSA.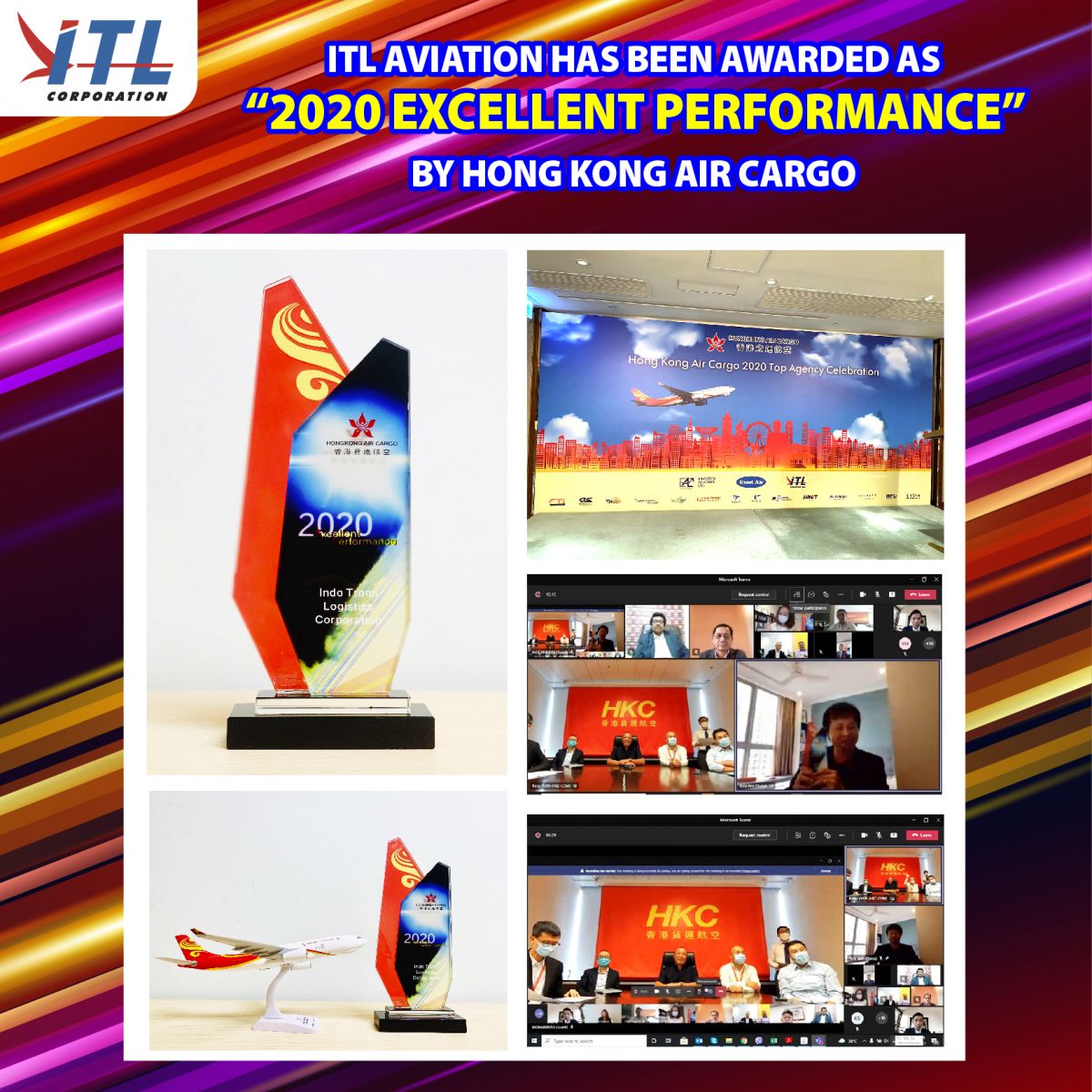 During this ceremony, on behalf of ITL Corporation, Mr. Tony Anh – VP Aviation Services addressed a speech to Chairman and President of Hong Kong Air Cargo, Mr. Jevey Zhang and expressed that
"ITL is great honored to be awarded as '2020
Excellent Performance
' by Hong Kong Air Cargo's management. It is ITL
's full commitment to build strong foothold of Hong Kong Air Cargo in the market, to make it the right choice of the customers. ITL is proud to be the good partner of Hong Kong Air Cargo and looks forward to continue fruitful journey onward ahead with Hong Kong Air Cargo".
In the current Covid-19 pandemic, it is such an extraordinary effort of RH Cargo SGN & HAN GSSA team to maintain scheduled flights of Hong Kong Air Cargo and increase frequency with charter flights. In 2020, ITL Aviation handled total tonnage of 17,000 tons in Hanoi and 11,000 tons in Ho Chi Minh City. ITL also coordinated with Hong Kong Air Cargo to arrange total 33 extra flights routing Ha Noi – Japan by using passenger aircrafts in the period of October - December, 2020.
Earlier in 2019, ITL Aviation was also honored to receive the "
2019 Rising Star
" award, recognizing its contributions to the development of Hong Kong Air Cargo in Vietnam market. This 2020 award is such a significant mark for the continuous outstanding contribution of ITL Aviation and fruitful cooperation between ITL Corporation and Hong Kong Air Cargo. This is also deserved for dedication, hardworking of RHHAN team and RHSGN team.
*Hong Kong Air Cargo operates fleet of Freighter A330F to destinations HKG, PVG, SIN TPE, BKK, MNL & intra Asia. In Vietnam, current frequency is 8 freighters and 1 passenger flight from Hanoi, 3 freighters from Ho Chi Minh City.